We all love crystals, and if you're anything like me, finding ways to display and show off your beautiful collection can sometimes be a struggle when you have so many! Where do you put them all? How can you display them around your house? In what ways can you use your crystals as dazzling pieces of home decor? To help answer these questions, I've put together this list of 10 crystal home decor and display ideas!
1. Crystal Shelf Displays

Starting out with the obvious, one way you can display your crystals around your home, office, or whatever space you may desire, is on shelves. Whether it be bookshelves, wall shelves, bathroom shelves, kitchen shelves, decorative shelves…. no matter what type, shape, or purpose the many shelves in your home may have, there's space to showcase your gorgeous crystals on them!
2. Crystal Bookends
Love to read? Other than crystal collecting, do you have a book collection as well? What better way to display and put your crystals to use than as bookends! You'll obviously need to use some of your larger crystals to support and hold up your books, but crystals as bookends are a fabulous way to display both your collections!
3. Display Crystals in Decorative Bowls
Pretty decorative bowls are the perfect storage pieces for crystals! Not only are just decorative bowls great for displaying your crystals, but different shapes and styles of vases, centerpieces, mason jars, and other decorative elements like these can serve as a great place to display your crystals!
4. DIY Crystal Mirror
For a fun DIY project, use an assortment of your smaller crystals to create a stunning crystal mirror to display on the wall! I absolutely LOVED this idea and will be trying it out myself as well! This is a great way to tie in both decor and display for your crystals by creating a gorgeous new piece of wall decor you can hang anywhere in your home.
5. Framed Crystals
They say a picture is worth a thousand words… well so are your crystals! Here's another great wall decor idea for your crystals. Simply frame them in a pretty frame and hang up on any wall for a beautiful new wall display of your collection! You can do any size crystal and frame too, whether it be smaller crystals and frames, or even large ones that you may want to display multiple crystals in, the possibilities are endless to the different pieces of wall art you can create with just a frame and your crystal collection!
6. Crystal Drawer Knobs
Feeling a little crafty and need to spruce up some of your drawers and furniture? Use some of your crystals in your collection to DIY some beautiful new drawer knobs!
7. Hanging Crystals & Hanging Crystal Planters
A little string or cord and you can easily make yourself some stunning hanging crystals! You can even add in some little plants to the piece for a hanging crystal planter! Find the full DIY tutorial here.
8. Crystal Garden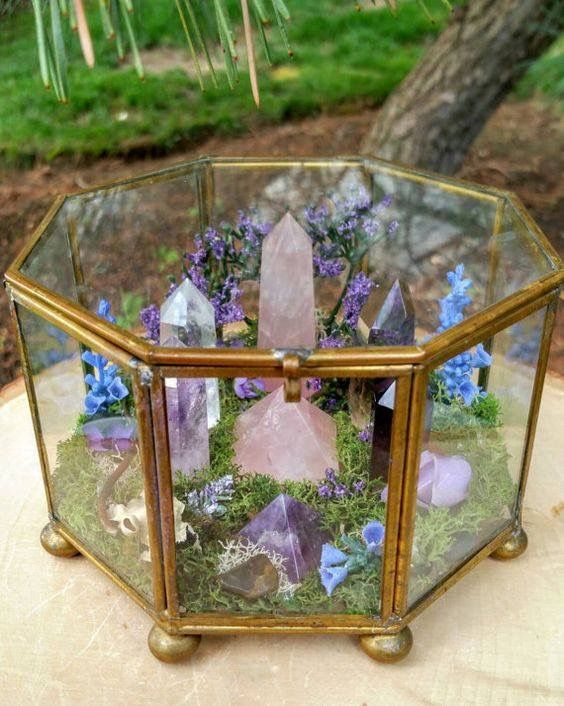 If DIY hanging crystal planters aren't enough, try making your own DIY crystal garden!