The one thing we all want, need, crave, and down right just simply need for a truly fulfilled life… love. Whether they be about or current relationship or past relationships, the search for our soulmates, or the future of our love life in whatever current state it may be in, or anything else that falls in between, one thing we all have and share in common are the unanswered questions we have and seek out the answers to about love.
Is he/she the one?
Are they cheating?
Does your current relationship have a bright future or will it soon come to an end?
Will you get back together with your ex?
Will he ever propose?
These are just a few of the many questions we've all either asked ourselves before at some point in our life, are constantly thinking of right now on a daily basis, or at some point in the future will find our minds wondering on about endlessly.
Luckily, however, these questions don't have to always go unanswered! No more do these questions about the current state of our love lives have to twirl around over and over again in our head, ending in a constant "what if" or another empty, unfulfilled answer in our lives. For those that don't know, or at least don't know how, there is a way that you can get the answers about love that you seek. For years, tarot has been the solution to finding out and understanding the unknown, to getting answers to questions throughout all areas within our lives, and not just about love at that. However, for those that long to know the fate of what lies ahead in love of all kinds within their life, tarot can be the solution and answer you seek.
This is why I've put together a quick overview of 5 tarot card spreads for love to help you out in your search for the answers to love! I made sure to include a tarot spread for love that covers all situations. Whether you're currently in a relationship, you're looking for love, or simply want to find out the future of your love life regardless of where you currently may be at in it, below there's sure to be a tarot spread out of the 5 I've provided that's meant for helping you.
For those that are beginners or don't know anything about tarot card reading and would like to get the answers to their love questions, don't fear, there's still another solution for you as well! Lucky for you – you have me! If you'd like to get the answers to all of your questions about love, simply schedule a psychic reading or tarot card reading with me and let me help you. You don't have to be located here in Charleston, SC either to have a reading done with me. I provide both in person readings at my shop, as well as phone psychic readings so you can get the answers to all of your questions regardless of where you are across the globe!
5 Tarot Spreads for Love: Tarot Card Reading
1. My Future Love Tarot Spread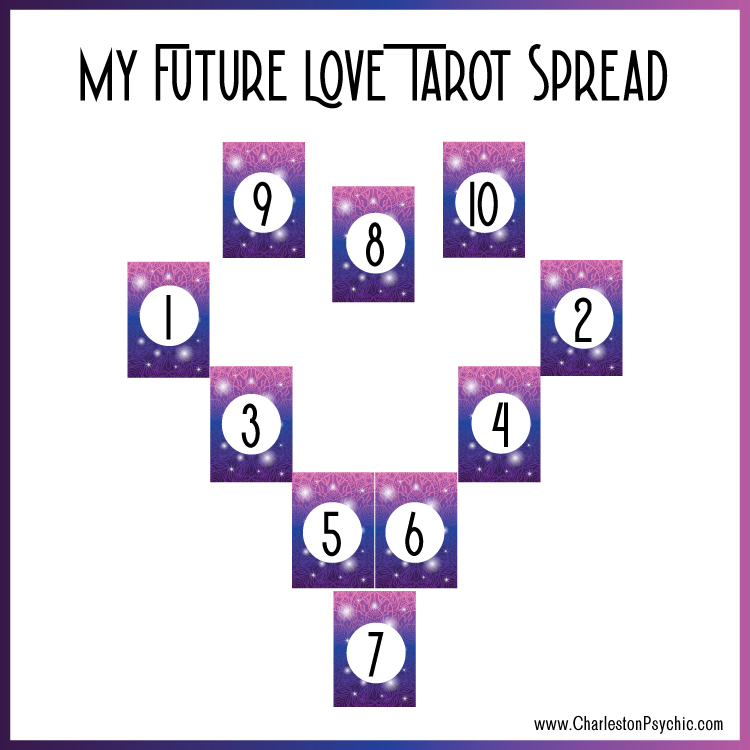 Looking for love? Find out the answers to all your questions with the My Future Love tarot card spread! This tarot spread says it all just in the name alone, as you can unveil all the details, clarity, and insight you need for your path to finding your soulmate.
Why haven't I found my soulmate?
How to overcome the answer to #1
What can I do to meet them?
How will I know him/her?
Where will I find them?
When will I find them?
Guidance and tips for finding your future love
My first impression of them
The common bond you'll have between the two of you
Wisdom for the future of your future love
2. Compatibility Relationship Tarot Spread
Relationships are complicated. This is something we all know. However, one of the most vital factors for any and every relationship when it comes to the success and future of the relationship is compatibility. The compatibility between you and your partner goes far beyond what you'd think it encompasses too, and is far more complex than many would think. The Compatibility Relationship tarot spread is the answer to all your questions and doubt about all levels and areas of compatibility between you and your partner within your relationship. Get the clarity, guidance, and insight you need to have a full understanding of whether or not your current relationship has a compatibility level high enough to be successful.
Your Wants
What do you want in the relationship?
Their Wants
What does your partner want in the relationship?
Differences
What differences do you and your partner have in your relationship?
Similarities
What similarities do you share with your partner in your relationship?
Emotional Compatibility

Physical Compatibility

Mental Compatibility
3. Three Card Relationship Tarot Spread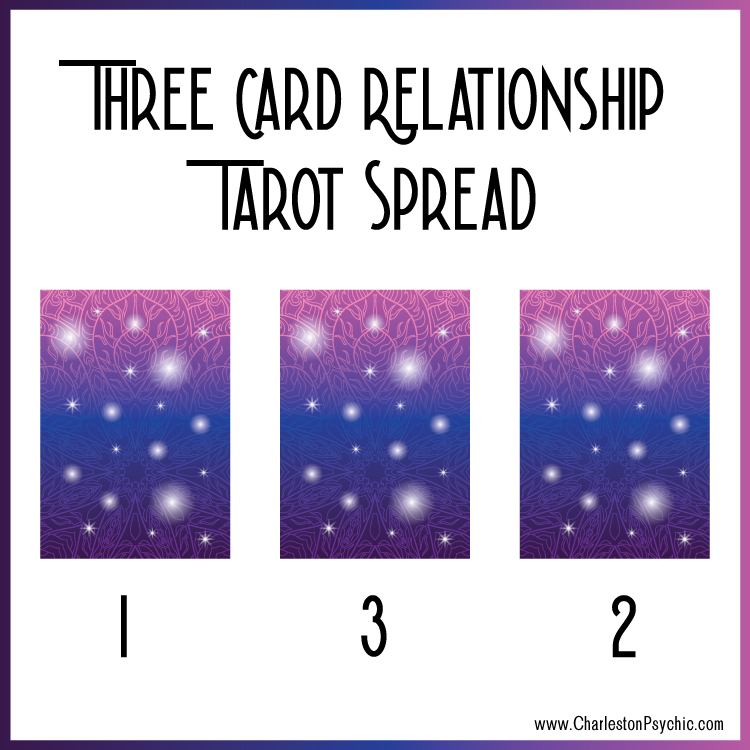 This one is the simplest spread in this list of 5 tarot spreads for love. For a quick diagnosis of your relationship, this Three Card Relationship spread is what I'd recommend turning to for answers.
You
Questions:
-What's your role in the relationship?
-How do you perceive yourself? How does this affect your relationship?
Your Lover
Questions:
-What is your partner's role in your relationship?
-How do you perceive them and how does it affect the relationship?
Dynamics
Questions:
-What are the characteristics of and how would you describe your relationship?
4. Relationship Tarot Spread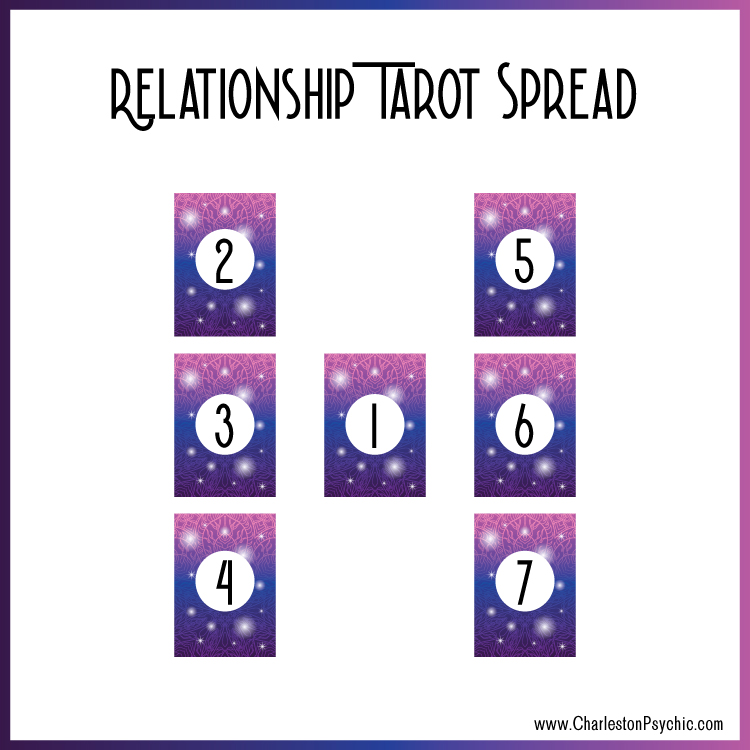 Are you currently dealing with any particular situations in your relationship? Or on the other hand, is there any specific situation you desire in your relationship? Either way, this relationship tarot spread is a great turn to for getting the answers you're looking for.
Situation: The current situation and state of the relationship, what is happening- a decision, conflict, or desired situation in your relationship
Your level of conscious: your thoughts on the situation
Your level of emotion: your feelings on/about the situation
Your behavior and/or attitude: the way and how you're responding outwardly to the current situation in your relationship
Their level of conscious: your partner's thoughts on the situation
Their level of emotion: how your partner feels about the situation
Their behavior and/or attitude: the way and how your partner is responding outwardly to the current situation in your relationship
5. Looking for Love Tarot Spread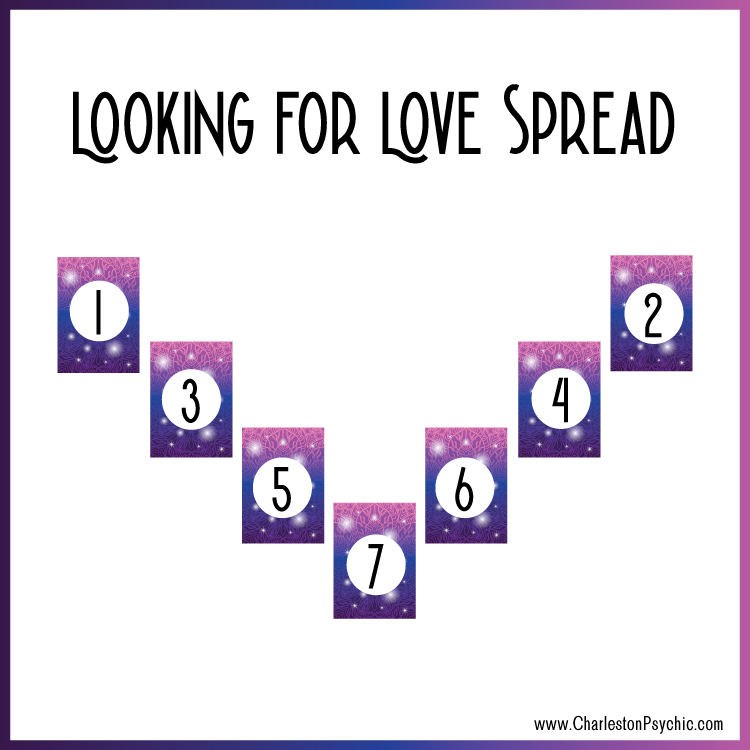 Serving more as another version and very similar in many ways to the first tarot card spread in this list of 5 tarot card spreads for love, this tarot spread says it all in the name – this spread is perfect for anyone currently seeking love in their life and longing to finally meet their soulmate!
Answers why you haven't found your partner yet
Answers how you can overcome all obstacles that stand in your path that are expressed in the first card
Tells you what you can do to finally find your partner and soulmate
What anyone looking for love wants to know- who the right person would/will be for you
The location: where you'll find them
Timing: when you will find your future partner
Wisdom and insight: any spirit(s) wanting to help you in your search for love will share wisdom and have a message for you
Tips and Advice for Experienced Tarot Readers
For advanced or experienced tarot readers, the last note I want to end on, is although yes, these tarot card spreads for love can help get answers to questions about all forms and situations that love presents, it's important to know when the time is right to do them yourself or not. One of the biggest mistakes people can make when reading tarot cards for themselves, is to try and do so in times where emotions are running high. What's one of the biggest parts of love? Emotion. Generally, when turning to tarot for answers about love, it's almost always going to be based on emotions and an emotional situation you're finding yourself in within your love life.
In these instances, when your emotions are running high, you're probably going to find yourself very worked up about whatever it is that has happened and has you turning to tarot for answers. In these types of circumstances, when it comes to reading tarot for yourself, it's much more likely your results are going to end up in a misdirected reading or just plain inaccurate due to you being so emotionally invested.
Remaining calm and focused during a personal tarot card reading is vital to the accuracy and success of the results you'll get to your questions, so when trying to do so about something you find yourself very emotional about, the smarter choice here would be to turn to a professional psychic and tarot reader. After all, it is answers you're after, correct? Why waste your time and get yourself all worked up, confused, and mislead from inaccurate answers by trying to read tarot yourself for answers to the questions you have about love in your life? The alternative, get the right answers and turn to a third party professional tarot reader for this one. Your goal is to obtain a strong, accurate understanding of the current state of your love life and develop clear insight into where you're currently at and where you're heading in the future, no matter what your current situation or position may be with love.
For Those Looking for a Professional Tarot Reading for Love
Lastly, for those that are either beginners or who have never even come close to reading tarot, whether it be for yourself or others, in their life, the good news for you is that you still have a solution to getting answers to your questions about love. You don't have to be a skilled or professional tarot reader to gain the insight and get the answers you seek about your love life, that's what professional tarot readers like myself are for!
My job is literally to get you those answers, to help you gain insight and clarity into whatever situations, whether they be about love or any area within your life, you're currently facing. So if these tarot spreads for love and all of this is coming off as a foreign language to you, worry no more! Simply schedule a tarot card reading or any of my available psychic readings with me right here on my website. In a matter of 3 minutes or less, you can take the first step to clarity and getting the answers to the future of love in your life, no matter where you're at right now.
So there you have it, 5 tarot spreads for love to help you find the answers to all the questions about love that you seek to find out!
To unveil the answers you seek and get a professional tarot reading, I offer both in person psychic readings here at my shop in Charleston, SC, as well as phone psychic readings so that you can get the help and guidance you need no matter where in the world you may be! So what are you waiting for? Uncover the future of your love life today and schedule an appointment with me!